2018 Research Experiences for Undergraduates
A REU student moving silicon wafers into a high temperature furnace for processing.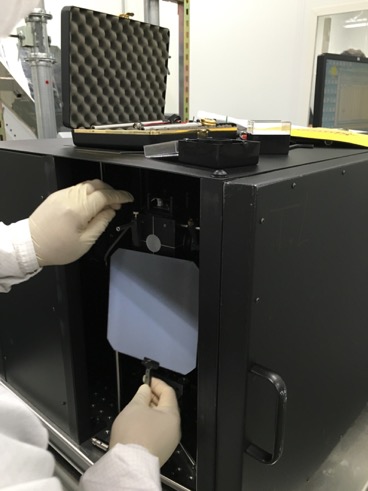 A silicon wafer being loaded for photo-reflectance measurements as a function of wavelength.
Research Experiences for Undergraduates (REU) at the Nanotechnology Collaborative Infrastructure Southwest (NCI-SW) at ASU is a stimulating nine-week summer research program for undergraduates from accredited community colleges and universities. As the southwest regional hub of the National Nanotechnology Coordinated Infrastructure (NNCI), the NCI-SW will offer REU participants the opportunity to work with nationally recognized scholars in micro- and nanoscale research and leaders in science education. For synergistic reasons, projects will emphasize advanced solar energy research since the program will run in parallel with another REU focused on this exciting topic.
Explore the world of the very small in a variety of state-of-the-art laboratories
Conduct research with the nation's top nanotechnology scientists
Gain new skills and valuable experience
Establish long-term relationships with faculty, staff and graduate students
May 30 – July 26, 2018
Stipend – $5,000 (paid in 3 installments)
Must be enrolled in an accredited college or university with at least one year
completed by May 2018, and at least one more semester from graduation after
the summer.
Graduating seniors or students already with a 4-year baccalaureate degree are not
eligible. However, students graduating in Spring 2018 with an Associate degree
from a 2-year college will be eligible if accepted for transfer to a 4-year degree
program by May 1, 2018.
U.S. citizen or permanent resident.
Prohibited from taking courses or working while participating in the program.
Must be available to attend the entire nine-week program.
ASU students are not eligible; they are encouraged to apply to REU programs at
other sites of the NNCI (see http://www.nnci.net/research-experience-undergraduates).
Deadline: March 1, 2018, 5:00 pm MT
Applicants must submit by the deadline a completed application form, a copy of
their transcripts (unofficial accepted), and two letters of recommendation.
All material must be submitted/uploaded online via the Apply Here Now link
provided below. No application material will be accepted via email.
Note that the application form will only save a submission for 24 hours in the
active browser. Preview the questions and collect all the necessary documents for
uploading prior to filling out the application.
Upon acceptance into the program, proof of U.S. citizenship or permanent
residency will be required. Where applicable, proof of acceptance to a 4-year
degree program will also be required.
Contact: Ray Tsui (email: Raymond.Tsui@asu.edu)
Education and Outreach Coordinator
Nanotechnology Collaborative Infrastructure Southwest (NCI-SW)
Arizona State University