2023 Research Experiences for Undergraduates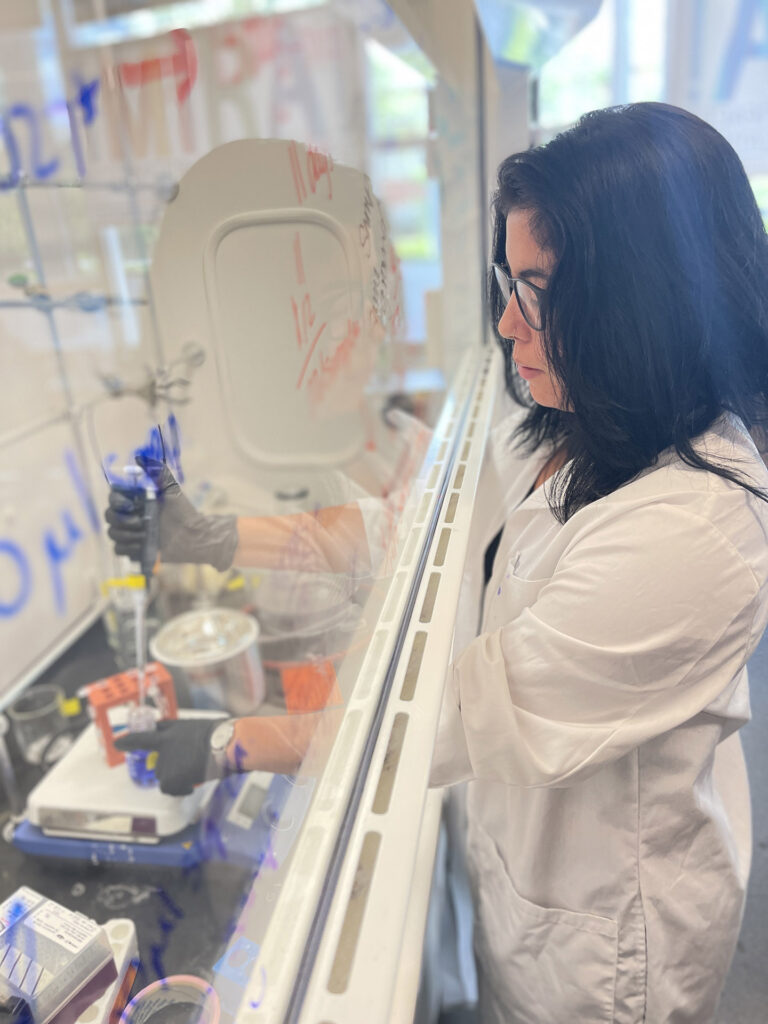 Ashley preparing samples for her project, "Soft nanomaterial carriers: eliminating burst release of their cargo."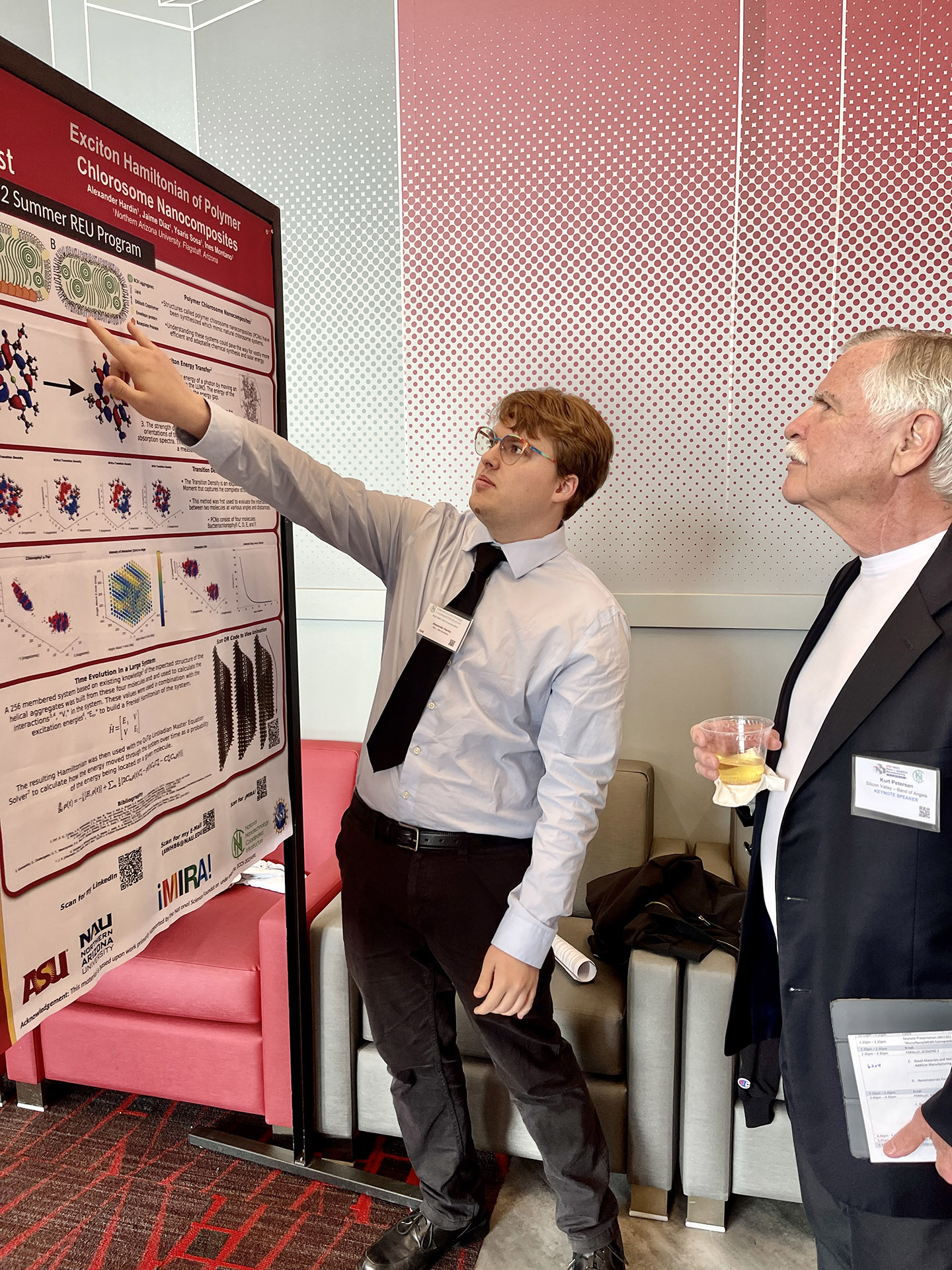 Alex sharing his final poster at Convocation 2022 for his project, "Exciton Hamiltonian of polymer chlorosome nanocomposites."
Marian gathering images for her project, "Using surface-enhanced Raman spectroscopy (SERS) to detect breast cancer."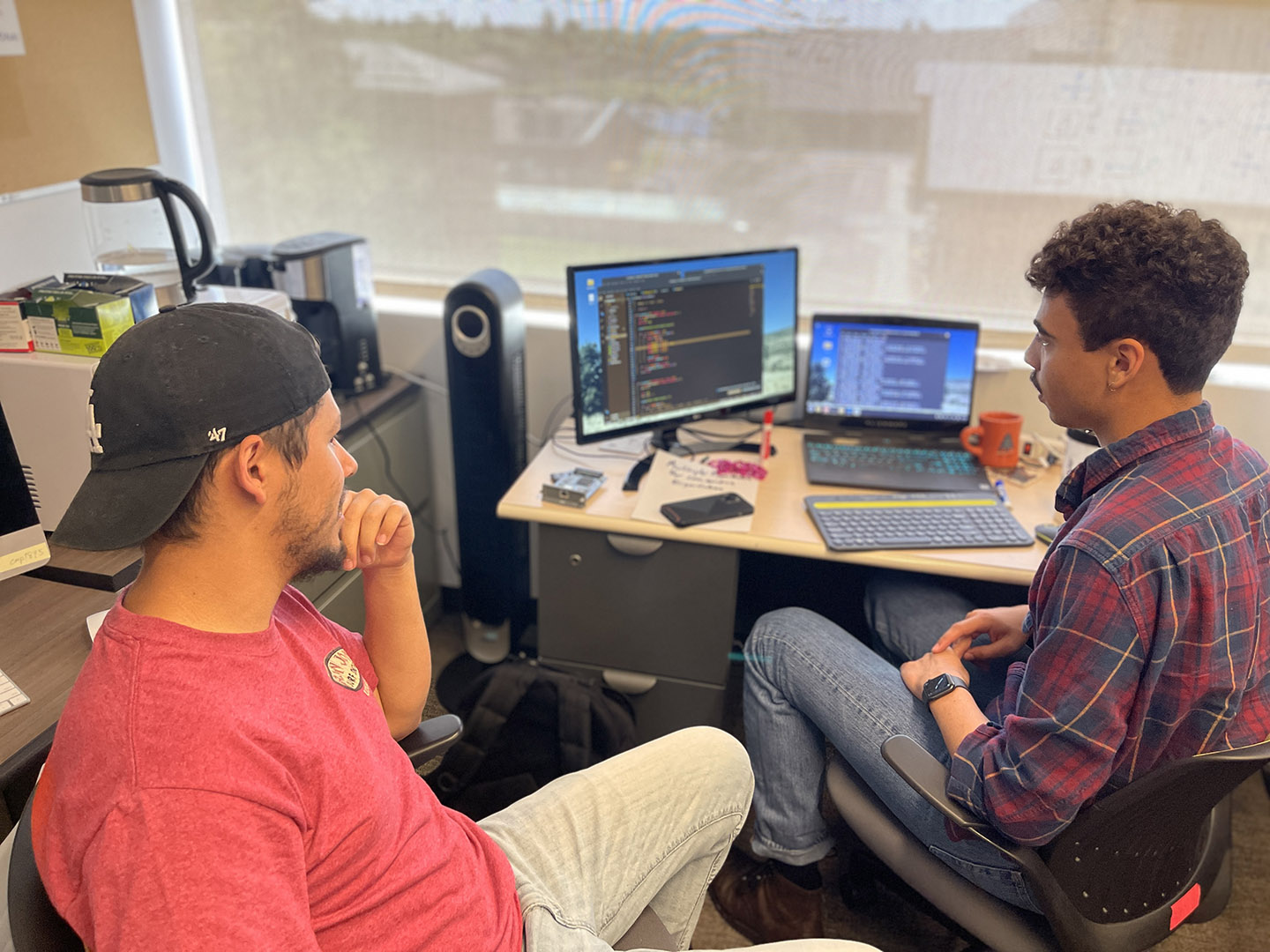 Isaiah discussing his project " Simulating open quantum dynamics through quantum algorithms" with his graduate student mentor.
Research Experiences for Undergraduates (REU) at the Nanotechnology Collaborative Infra­structure Southwest (NCI-SW) at ASU is a stimulating nine-week summer research program for undergraduates from accredited community colleges and universities. As the southwest regional hub of the National Nanotechnology Coordinated Infrastructure (NNCI), the NCI-SW will offer REU participants the opportunity to work with nationally recognized scholars in micro- and nanoscale research and leaders in science education.
Explore the world of the very small in a variety of state-of-the-art laboratories
Conduct research with the nation's top nanotechnology scientists
Gain new skills and valuable experience
Establish long-term relationships with faculty, staff and graduate students
Research work may be carried out at the Tempe campus of Arizona State University or the Flagstaff campus of Northern Arizona University, depending on project availability. Research topics will cover the application of nanotechnology in the physical, biological, and earth/environmental sciences as well as various aspects of engineering.
NOTE: Our goal is to provide a quality, in-person learning environment that adheres to public health and safety guidelines from the U.S. Centers for Disease Control and Prevention. If the COVID-19 pandemic conditions are such that we need to change our plans, an announcement will be made as soon as possible.
Runs May 30 – July 28, 2023 (5 days a week except for July 4th holiday)
Students that successfully complete the program are eligible to attend (at no cost) NNCI's REU Convocation at Montana State University, August 5-9, 2023
Stipend – $6,000 (paid in 3 installments)
For students living within driving distance to ASU or NAU (housing may not be available)
Must be enrolled in an accredited college or university with at least one year completed by May 2023, and at least one more semester from graduation after the summer.
Graduating seniors or those already with a 4-year baccalaureate degree are not eligible. However, students graduating in Spring 2023 with an Associate degree from a 2-year college will be eligible if accepted for transfer to a 4-year degree program by April 15, 2023.
U.S. citizen or permanent resident.
Prohibited from taking courses or working while participating in the program.
Must be available for the entire nine-week program, beginning on the start date, and work on a research project 40 hours per week.
Must be available to attend and present research results at the REU Convocation at the Montana State University, final date TBD, approximately July 29 - August 4, 2023.
ASU and NAU students are encouraged to apply to REU programs at other NNCI sites (see http://www.nnci.net/research-experience-undergraduates).
Deadline: March 15, 2023, 5:00 pm MT
Applicants must submit by the deadline a completed application form, a copy of their transcripts (unofficial accepted), and two letters of recommendation.
All material must be submitted/uploaded online via the Apply Here Now link. However, in the event a recommender would rather send in the letter directly instead of providing it to the applicant, the recommender may email it to Jessica Hauer (email: Jessica.Hauer@asu.edu). In such a case, the applicant should upload a document containing the name of the recommender as part of the online application process.
All uploaded documents should be named starting with the applicant's last name (for instance: Smith_Unofficial Transcript_#1.docx).
Note that the application form will only save a submission for 24 hours in the active browser. Preview the questions and collect all the necessary documents for uploading prior to filling out the application.
Upon acceptance into the program, proof of U.S. citizenship or permanent residency may be required. Where applicable, proof of acceptance to a 4-year degree program will also be required.
Contact: Jessica Hauer (email: Jessica.Hauer@asu.edu)
Education and Outreach Coordinator
Nanotechnology Collaborative Infrastructure Southwest (NCI-Southwest)
Arizona State University