Dear Readers,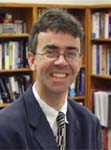 Hello & welcome to the world of NCI-SW. I know, I know... what is NCI-SW? We understand it can all be a little confusing with all of the acronyms that are used in the world of science and technology. That's why, today, in our inaugural newsletter we would like to take a moment and introduce ourselves to you properly. First, if I may, I would like to introduce myself to you. I am Trevor Thornton, professor in the School of Electrical, Computer and Energy Engineering, one of the six Ira A. Fulton Schools of Engineering here at Arizona State University. I serve as the Principal Investigator and Director of the new Nanotechnology Collaborative Infrastructure Southwest (NCI-SW). We are excited to introduce you to NCI-SW and tell you about the fascinating work we are doing here in the southwest.
Let Me Introduce you to NCI-SW
By Trevor Thornton, Ph.D.
The Nanotechnology Collaborate Infrastructure Southwest (NCI-SW) is a collaborative partnership between six ASU research centers, the Maricopa County Community College District (MCCCD), and Science Foundation Arizona (SFAz). We are honored to be the southwest regional node of the National Nanotechnology Coordinated Infrastructure (NNCI). The NNCI is a collection of 16 schools and affiliated partners that have agreed to make their laboratories and in-house expertise available to academic and industrial users from across the nation. Funded by the National Science Foundation (NSF), this partnership represents more than a 30 year investment from the NSF to strengthen the national infrastructure supporting nanotechnology discovery and innovation.

Under the NCI-SW umbrella external users can access six research centers at ASU comprising: ASU NanoFab, LeRoy Eyring Center for Solid State Science (LE-CSSS), Networks for the Life Cycle of Nanomaterials (LCnano), Solar Power Laboratory, Peptide Array Core Facility, and Center for Nanotechnology in Society. We look forward to telling you more about each of our partners in upcoming editions of this newsletter.
ASU has a long tradition of making in-house resources and expertise available to the broader academic and industrial community. The NCI-SW brings this tradition under one umbrella for nanotechnology users requiring access to state-of-the-art laboratories and know-how. Through a centralized web-based portal (www.ncisouthwest.org) users can locate the tools and/or instrumentation they need and arrange to discuss their requirements with ASU experts. Gaining access to our facilities is very straightforward. To learn more about the process please contact me at t.thornton@asu.edu.
To be of value to our community we believe our program must focus not only on basic R&D, but also on supporting the nanotech industry by creating an educated workforce. Our efforts will span from K-12 all the way to working professionals. By partnering with MCCCD and Science Foundation Arizona we are able to reach communities beyond those traditionally served by a 4 year school such as ASU. For example, Rio Salado College, a MCCCD college, offers a two year AAS degree in Nanotechnology with the advanced laboratory sessions taking place at ASU through a combination of remote access and hands-on laboratories. We also reach out to rural communities across Arizona and the southwest through the extensive network of community college programs managed by Science Foundation Arizona. The remote access to ASU instruments is particularly valuable for connecting with schools and colleges in remote communities and serves as a powerful tool to recruit participants in our Research Experiences for Undergraduates (REU) and Teachers (RET) programs.
To sum it up, NCI-SW and our partners, are looking forward to working with the southwest community of educators and industry in bringing nanotechnology tools and experience into your classrooms and businesses.
NCI-SW Vision & Goals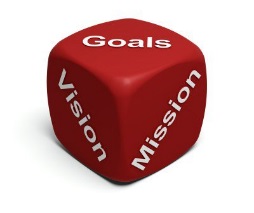 NCI-SW has a very clear vision with specific goals in mind to serve our community. We envision a regional hub supporting nanoscale science, engineering, and education to grow the manufacturing industries of the 21st century. Our mission is to provide broad access to advanced nanofabrication and nanocharacterization tools, faculty and staff expertise, and educational opportunities. The Southwest NNCI site will provide particular intellectual strengths and infrastructure in renewable energy and the life sciences as well as the environmental and social impacts of nanotechnology. To facilitate the commercialization of research breakthroughs, we augment our nanoscience infrastructure with prototyping facilities and low-volume manufacturing pilot lines.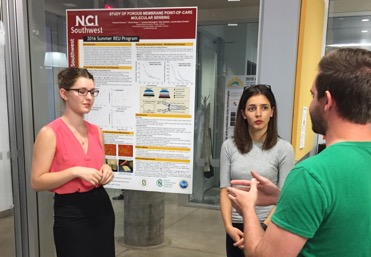 The team of Scottsdale Community College students explaining their research results during the Poster Presentation Event at the conclusion of the 2016 REU Program.
Our infrastructure for education and entrepreneurship will support a community of students, innovators, and policy makers. The NCI-SW will develop a nanotechnology workforce in partnership with community colleges and non-profit organizations that serve large minority populations across the southwest. To identify best practices and pedagogy for optimal STEM outcomes, we will integrate educational research with research experiences for community college students and faculty.
Our Plan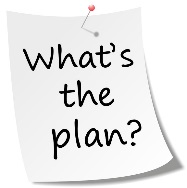 As you can see, our vision and goals are quite ambitious; however, working with all of our partners, our plan is clear and direct. As we work toward building a southwest regional infrastructure for nanotechnology discovery and innovation we will take the following steps:
Provide users with state-of-the-art equipment, industry standard pilot lines, and the corresponding faculty, staff, and student mentor expertise.
Rapidly deploy new techniques for nanoscale fabrication, characterization, and manufacturing.

The REU team of Navajo Technical University students in the cleanroom of the Solar Power Lab.

Build user groups from non-traditional communities in the fields of geological and environmental sciences, biochemistry, and medicine.
Train the scientists, engineers, technicians, entrepreneurs, and policy makers required for a 21st century manufacturing economy.
Provide certificate programs in nanotechnology and entrepreneurship.
Provide social science tools that align nanotechnology research around societal problems.
Broaden participation from underrepresented minorities, especially those from rural and Native American communities across the southwest.
Maintain a web portal that provides external users with seamless access to the entire capability of the Southwest NNCI node.
Disseminate best practices across the NNCI through webinars, workshops, and on-line training videos.
NCI-SW in Action
Recently, our colleague, Raymond Tsui reported on NCI-SW national engagement that we are very excited to pass along to you.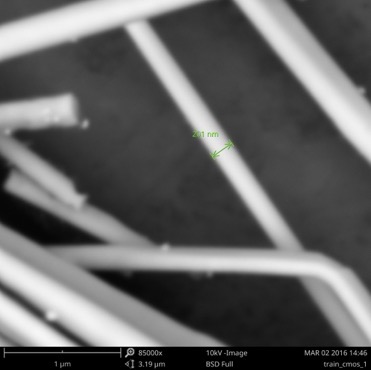 SEM image of nickel nanowires at 85,000x
NCI-SW is part of the RAIN network (http://nano4me.org/remoteaccess) that has sites across the country with scientific measurement equipment accessible remotely over the web. This allows remote users to look at and learn about nanoscale materials. At ASU, a scanning electron microscope that can image objects at over 100,000 times magnification is set up for this purpose.
Recently, a nationwide event called RAINing Across America was held to celebrate National Nanotechnology Day on October 9 (10-9!). Six of the RAIN sites hosted simultaneous remote access demo sessions. ASU was connected concurrently to two local high schools, Barry Goldwater and Aqua Fria. Both teachers and students had opportunities to control the microscope remotely in real-time.
A variety of samples are available at ASU to meet the interests of different audiences, including microchips, nanowires and insect specimens. For more information, please contact Ray Tsui at ASU.
Please Stay Tuned...
As we move forward, we look forward to sharing with you on a quarterly basis, the unique activities of individual centers and the programs run in partnership with MCCCD and SFAz. We also will be sure to update you on the activities we offer each year such as, REU/RET programs, Science Outside the Lab and the Winter School on the Anticipatory Governance of Emerging Technologies.
We look forward to sending our next newsletter in Spring 2017. If you want to be sure that you receive this newsletter or you have friends who would like to subscribe, please visit (insert link) and we'll be sure to add your contact details to our growing database.
---
Stay Connected
---
---
The Nanotechnology Collaborative Infrastructure Southwest is supported by the National Science Foundation under Grant No. 1542160. Any opinions, findings, and conclusions or recommendations expressed in this newsletter are those of the authors and do not necessarily reflect the views of the National Science Foundation.