What Exposure Levels Are Occurring To Workers, Consumers, and the Environment?
Human and ecosystem exposure to, and potential toxicity from, engineered nanoparticles pose challenging Environmental Health and Safety (EHS) issues across the life cycle of nano-enabled products. LCnano provides services to assist in these EHS issues.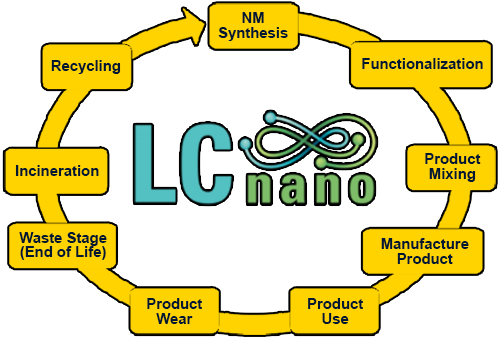 The life cycle of nanomaterials begins during their synthesis. Understanding and characterizing NM yields during synthesis, and fate of wastestreams or workplace exposures when NMs are incorporated into manufactured products is one important series of pathways for human exposure. Consumers or secondary workers using nano-enabled products can be exposed to nanomaterials. Finally, at the end of life humans or our environment can be exposed to nanomaterials. Our philosophy is to take an exposure driven approach to nanomaterial risk assessment, and then focus toxicity testing guided by realistic exposure scenarios. We can do testing in air, water, soil, tissue, foods, plastics or other matrices of importance to your company.
We have found that dividing nano-enabled products into four "product line" categories provides useful approaches to quantifying potential EHS issues based upon their ability to be released during use. We provide unique quantitative or qualitative tools to detect nanomaterials in a wide variety of matrices (fluids, creams, gels, plastics, fibers, papers, etc.) with the aim of describing exposure scenarios.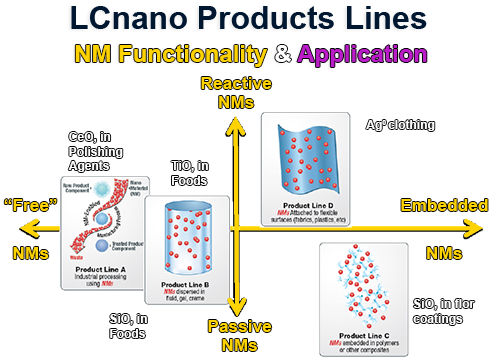 We also have equipment designed to simulate realistic use scenarios – including an outdoor weathering station and network, Taber abrader for solid surfaces, landfill leachate testing capabilities, simulated washing, tensile strength testing of composites, etc. and ability to apply standard ASTM testing or custom design testing. Collecting samples and preparing them for analysis is a specialized skillset within our center. We have high throughput analytical measurement devices as well as access to electron microscopy and other characterization methods that we apply in a tiered testing strategy. We have access to a wide variety of in vivo and in vitro toxicity testing platforms that can be engaged to assess nanomaterial toxicity using realistic exposure conditions. Results from our work are being used by companies, NGOs and regulators.